Social media marketing has become one of the most effective marketing tools, with more companies jumping on the bandwagon daily. As social media gets more popular by the minute, marketers are thriving, trying to stay innovative and perfecting sales strategies.
With more than 2 billion social users around the world, it has become necessary for every business to create a social media plan, try to follow trends, and connect with their customers. Social media lets users connect and interact with businesses, and your company's presence on social media can have a huge influence on your marketing success.
Social media marketing allows starter companies with lower funds to establish themselves in their respective industry and makes big companies even more successful. Whether on Instagram, TikTok, Pinterest, or Facebook, you see ads and products marketed daily. So your products will surely be noticed if you develop a good marketing strategy.
To perfect your marketing strategy, you will need a good marketing tool. Luckily for you, we have prepared a list of 6 must-have social media marketing tools to guarantee success.
1. Postly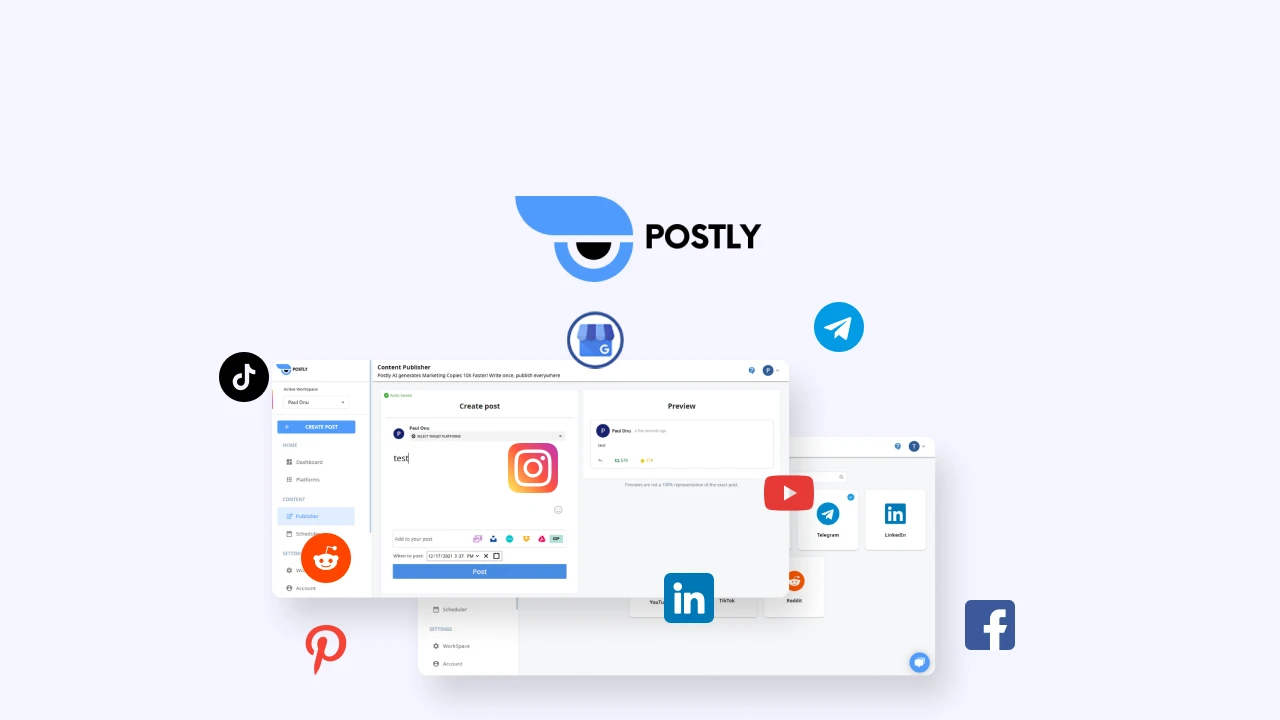 Postly is a social media manager and content scheduler that boosts your SEO and social media content. It publishes on popular media platforms such as Instagram, Facebook, TikTok, Twitter, YouTube, and more. It is also best for marketing agencies, social media marketers, and social media managers.
Moreover, Postly is an alternative to Hootsuite and Buffer and integrates with Facebook, Instagram, Twitter, Youtube, and LinkedIn. It features a 1st class AI Writer that generates quality SEO content alongside a powerful Hashtag Generator.
Plus, it has a visual calendar and a bulk content uploader. Some other features Postly offers are Instagram carousel posts, Twitter polls and threads, recurring posts, local trends, events, and holidays.
2. SocialBot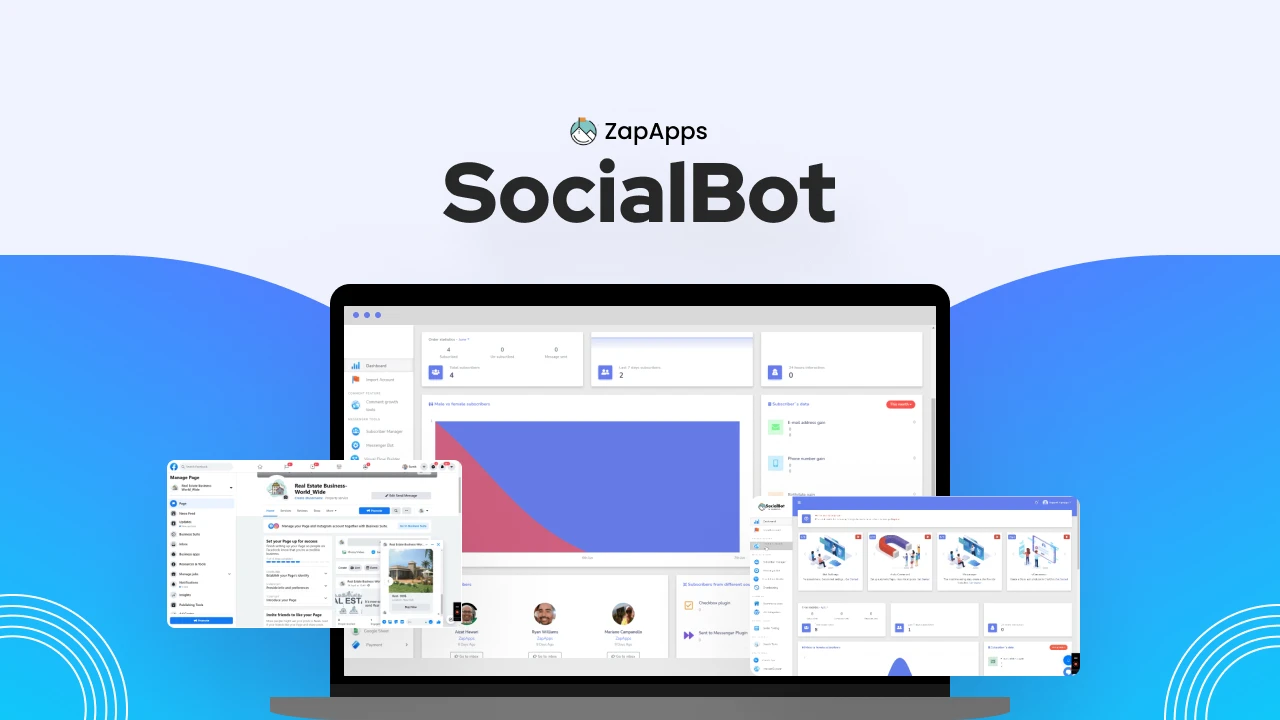 SocialBot is a social media marketing tool with Facebook & Instagram automation, post scheduling, and more. It has a simple dashboard that will give insight into your customers' details, posts, and bot activity. Also, it lets you build your messenger-driven eCommerce store, and you can build a chatbot you can integrate into any website.
You can use the abandonment recovery tool to recover your Facebook store and lost WooCommerce customers. Plus, you can use functions such as interest searching, website comparison, and hashtag post searching to optimize your sales.
Thus, SocialBot is most useful for marketers, online coaches, and marketing agencies and is an alternative to Instapage, Facebook Ads, and Nila.tech.
Finally, it integrates with WordPress, Twitter, Excel, Facebook, Instagram, PayPal, and more, while being beginner friendly, easy to use, and GDPR-compliant.
3. Sociamonials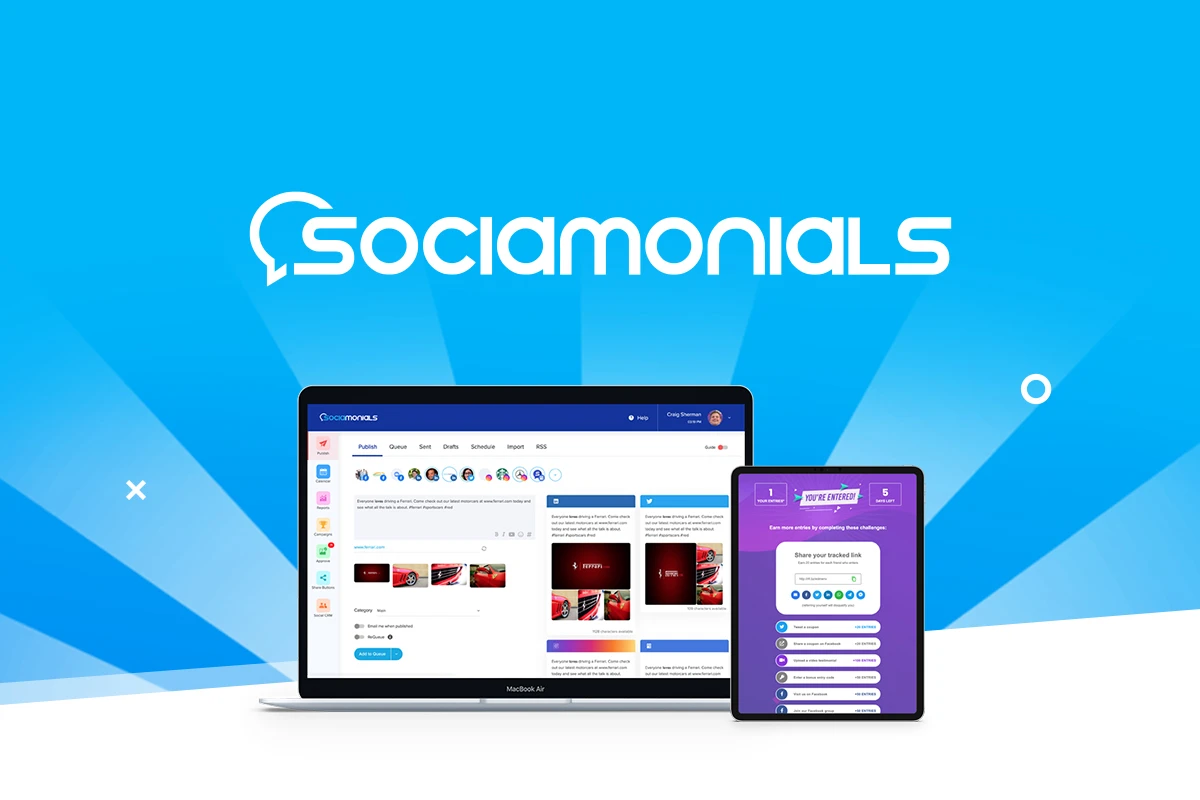 Sociamonials is a comprehensive and easy-to-use social media tool. It lets you schedule social media posts and optimize automatic reposts. With it, you can launch contests and sweepstakes, track influences and social media metrics and integrate user-generated content.
Furthermore, it helps optimize your campaigns and increase ROI with powerful social media analytics and automation. It is an alternative to Hootsuite and integrates Facebook, LinkedIn, Google My Business, Twitter, and Pinterest; and is perfect for marketers that work in any field.
Sociamonials is perfect for running contests that help get you noticed and launching campaigns with ready-made design templates. It offers custom social media metrics that track what matters to your business. It lets you see which network posts generate the most leads, engagement, and revenue.
This tool also lets you schedule posts in advance and automate reposts, and grants you access to interactive charts that generate unlimited data reports. It will pick the best time for posting on each network, and if you forget to post at the best time, post-scheduling will take care of it.
4. Nila.tech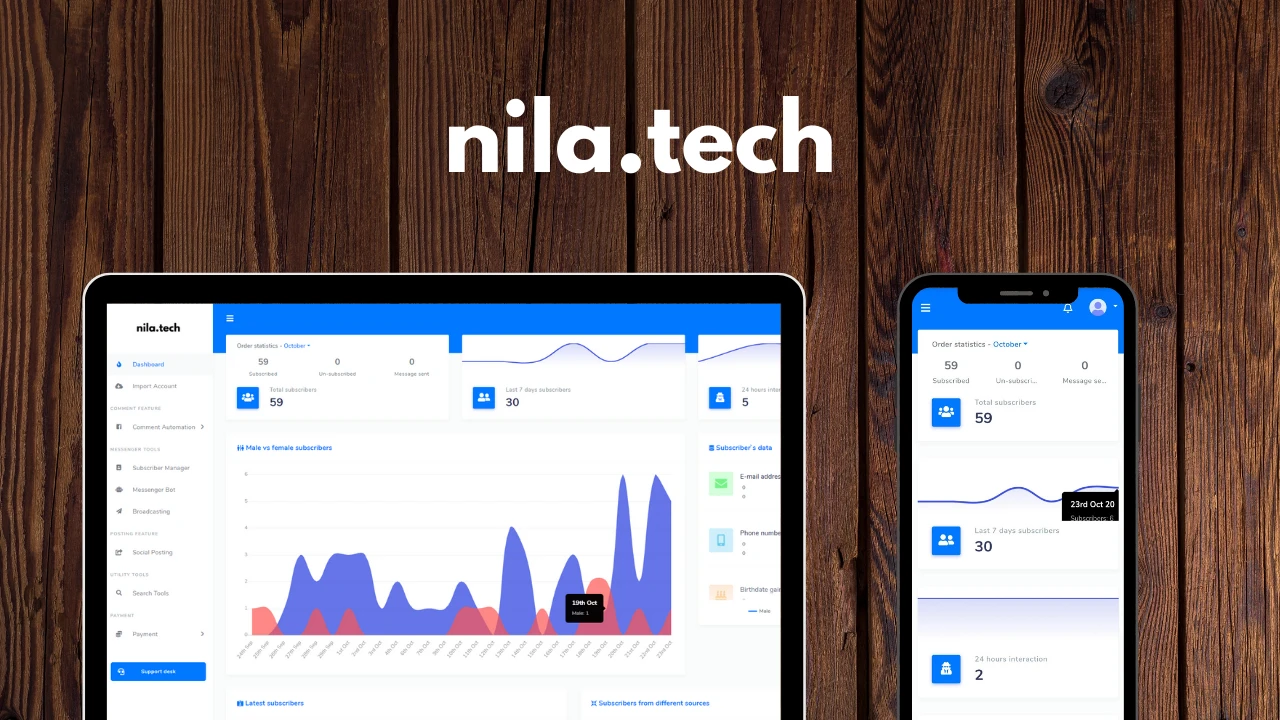 Nila.tech is a 1st class chatbot marketing automation platform for email, SMS, and Facebook Messenger. Alongside chatbot marketing, it has advanced page posting features and lets you sell products in the Facebook Messenger chatbot.
It can be embedded in any app, platform, or website. The Complete Social Media Poster feature lets you post images, text, videos, and links to Facebook, LinkedIn, Twitter, Reddit, WordPress, Blogger, and Medium accounts.
In addition, one of the key features is Bulk Message and Email Sending, which lets you send bulk messages to Messenger leads. On the other hand, The Comparison and Search Marketing feature helps you learn more about your competitors to gain an advantage.
Finally, Nila.tech is an alternative to Intercom and ActiveCampaign and is ideal for Web design agencies, SaaS and QA, and it also integrates with Instagram, WordPress, Facebook, Twilio, and SendGrid.
5. Pinflux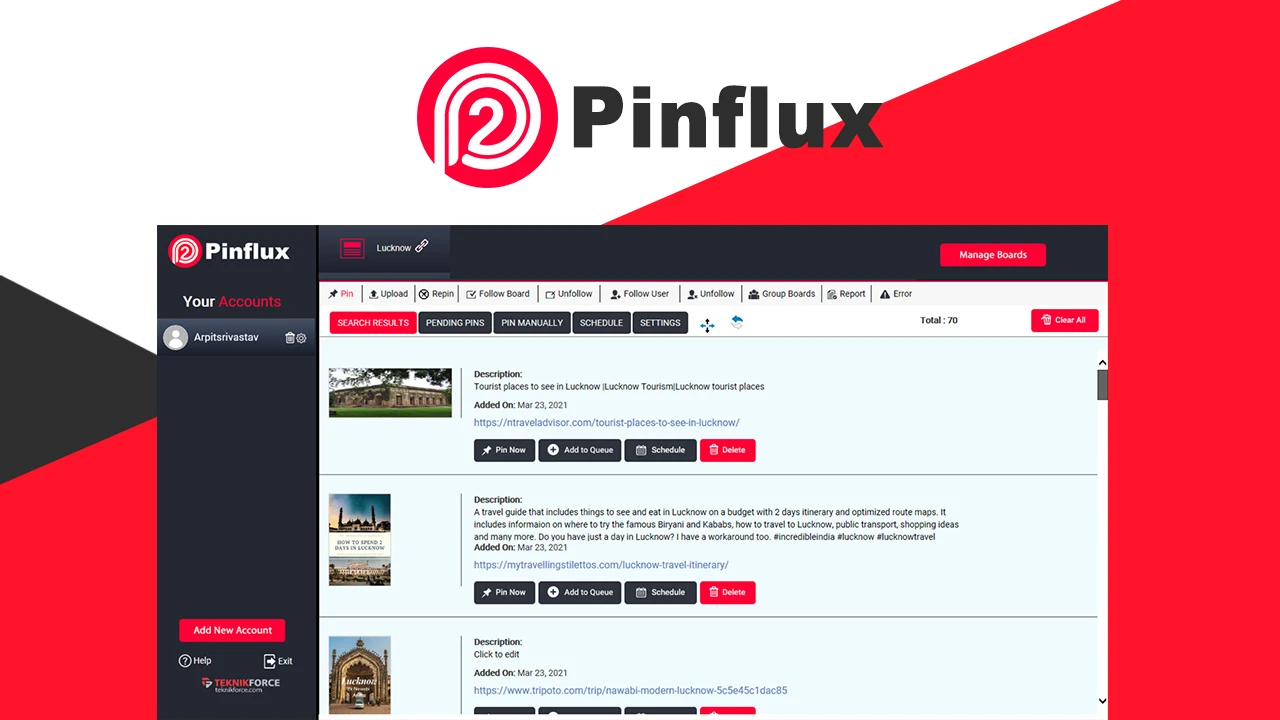 Due to the focus on lifestyle and visual impact, one of the best platforms to promote products on is Pinterest. Pinflux lets you find interesting content, schedules it, and helps grow your account by forming connections.
More than 2000 marketers use it, and it helps them improve their Pinterest marketing strategies. It also helps you manage and grow Pinterest profiles and scale up your marketing, making it ideal for Marketers, eCommerce, and Social media managers.
Finally, Pinflux is an alternative to Hootsuite and Buffer and integrates with Pinterest. This tool is a powerful traffic automation tool with 1st class features that will get you the best Pinterest marketing results.
6. OtherPerspectives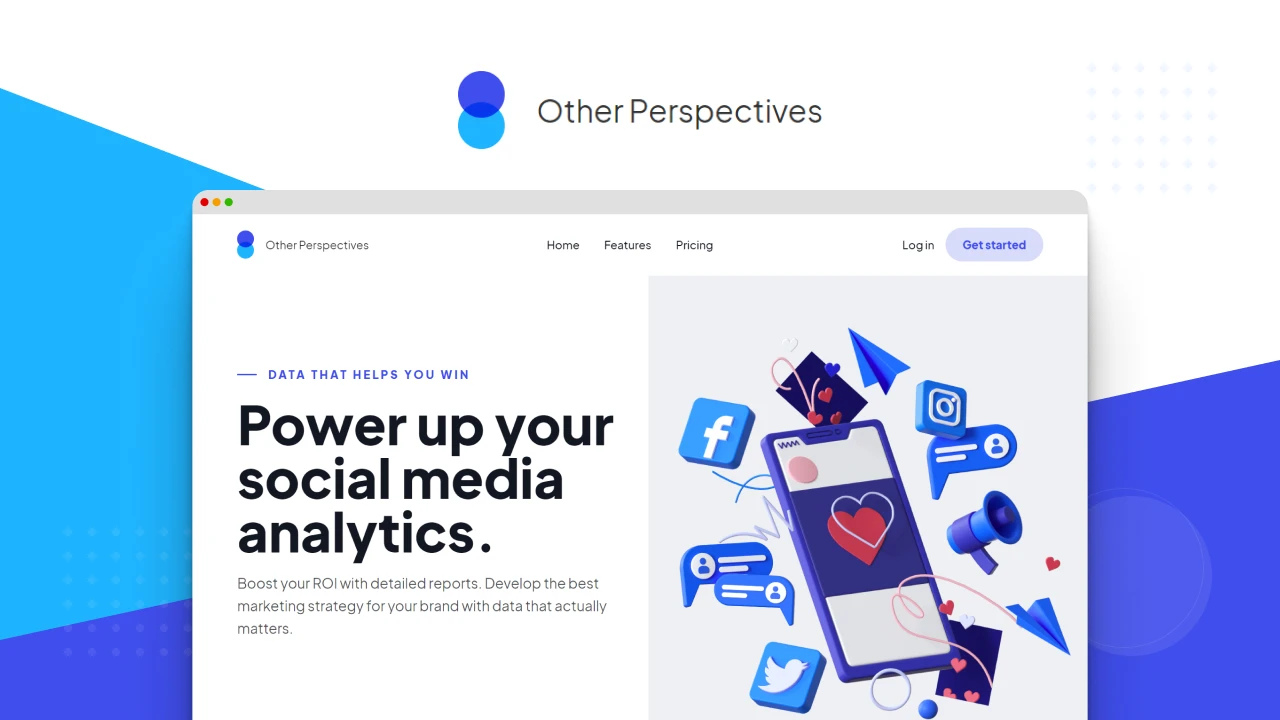 OtherPerspectives is a powerful social analytics tool that helps you build an audience that will engage with your content. It monitors your brand, influencers and campaigns, and influencers across social media networks. This tool is perfect for growing a social presence, developing content strategies, and improving performance.
Moreover, OtherPrespectives generates in-depth reports, runs competitive analyses, and evaluates pages. It gives you analytics on all big social media, including Instagram and Facebook. Analytics help analyze your audience and understand their interests, dislikes, and preferences.
Finally, it is ideal for content creators, marketing agencies, and social media managers.
Final Words
In the social media marketing era, where competition is high, you only want the best of the best. All the marketing tools on this list will help you grow a social media presence and improve your business, but the one that stands out is Postly.
It will boost your SEO and social media content. And it is a must-have tool that publishes on the most popular social media platforms. Postly offers powerful features that will up your social media marketing game and bring success your way.