Hope you're all good:
Already i published so many launchers for android and you can get them in our free launchers category.
That's why i just realize that today is the best day to give you another android launcher for your mobile phone to make your android phone quicker and smarter by using the launcher.
So today i will introduce to you Creative launcher apk 🙂
This is another amazing and fast useable launcher for all the android operating system users and in this article, I will show you why you use it? and how to download creative launcher for android?
Let's start with the features of this launcher…
Creative Launcher Features and Overview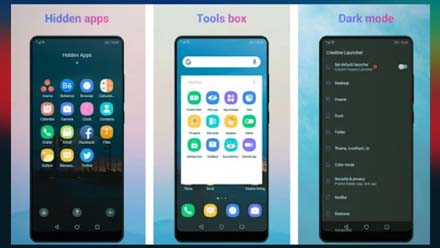 In short words, Creative Launcher is a unique android launcher with some awesome and innovative features like a drawer, smart keyboard, and so on, also, it will help you to access all the apps and features quickly with just one click and that's the best feature of the app.
1000+ Themes and Wallpapers
No matter how much we use the launcher, but we always need to use alternative themes on our launcher and the creative launcher will help you with that because it has 100+ cool themes stores and you can use them one by one.
Icon Pack
Like the theme, we need icon pack when we use any stylish launchers or applications, and that's why this launcher also, ha there own mother application on play store for just icon packs and those are super cool, so to use creative launcher icon pack just go to play store and search for it.
Battery Saver
The battery is a major problem with our mobile, but when we did not get any better saver on our mobile then we feel bad because we can not get the feature, but in this creative launcher, you will get the best battery saver inbuilt.
Eye Protector
I shared so many launchers but they don't have the feature…
But in this launcher you will get a feature called eye protector, so that's why if you use your mobile enabling the eye protector feature then you will not have any problem with your eye, and you can use your android phone unlimited.
Memory Booster
We watch movies, songs and etc on our mobile by using our phone memory or external memory, but did you know that? some junk files are decreasing our using speed? yeah, and with the memory booster feature, you can boost your junk files and clean them from your mobile easily.
App lock
We use App and games a lot on our phone but some times we put our mobile on home and when we go back our home wee see some other person will using our mobile and playing games, and that's why we want to use app lock, so this creative launcher has there inbuild app lock feature and that's why you can lock your any apps and games easily.
This launcher has so many other features like them:
????Grid size option
????Icon size option
????Multi dock page
????Dark color mode, light color mode
????Notifier for SMS, Call, Mail, etc
Download Creative Launcher Apk For Android and Tab
Go to the play store.
Then find the search button and click on it.
Now search for the launcher name like this (Creative Launcher) and search it.
Open the first one and click on the "Install" button and then wait for the installation to complete.
After complete your installation process now you will see an "Open" button so click on it and active creative launcher apk easily on your android or tab.
Or you can click this button to download this creative launcher:
Bottom Line
So just read the full article and download the Creative Launcher and try it on your tablet or android mobile, basically, if you're looking for a quick and smart launcher then this is best for you and your mobile.
So if you like this launcher then share and if you also, want to know anything about this then feel free and ask me in the comment section, I will answer you very soon, now its time to leave the article, keep smiling, and thanks for reading.