Updated for 2021
PUBG is now on everyone's Phone.
Gamers always play this game and so many gamers are making money from it ????
But here is the thing, is PUBG is better than every other games like PUBG for android? I'm sure, no, but if you don't know then read the full article because I'm going to share with you to best free offline games like PUBG for android gamers with the download link.
Before i start our today's listing lets talk about some truth about PUBG with one line: basically PUBG is best then this list of games but I'm sure if you play my listed games then you will be very satisfied, so let's begin our top offline games list for android.
| Games Name | Games Informations |
| --- | --- |
| Cover Fire: Offline Shooting Games | Free+Offline |
| ScarFall – The Royale Combat | Offline+Online |
| PVP Shooting Battle | Online |
| Survival Battleground Free Fire: Battle Royale | Online |
| Gun Killer:Sniper | Offline |
| Firing Free Fire Squad Survival Battlegrounds | Offline but so man bad review on google play store |
| Swag Shooter – Online & Offline Battle Royale Game | Online+Offline |
Short List
PlayerUnknown's Battlegrounds (PUBG) Alternatives Offline Games List for Android
Our first and best offline game is Cover fire, and it was the awesome and best offline game for android gamers, and I personally played the game so many times.
If you like to play shooting games then did you know that? this is the best shooting game you'll ever play on your phone, and if you ready played the game then you should know about the game, if you already played then share your feelings in the comment section.
4.5 ratings on play store out of 5 and 4.7 start rating on app store out of 5, now its time to know the main thing, did you know who are the publishers of the game? Genera Games, Genera Indie Games are the publishers of the cover fire offline game.
ScarFall is one of the most played ultimate battle royale android game for you, and if you play the game on your mobile then you will be you playing PUBG on your phone, and that's why I added the game of the list of best offline games like PUBG.
Did you know the Rating of the game on the play store? it was 4.1 out of 5, so this means this is amazing to play that's why peoples are giving rating to the game.
Basically this is an Indian based game and this game will play both online or offline, so in one word this is a multiplayer game for android, and ScarFall game was Published by XSQUADS Games Team in India.
This game i didn't play but i watched the review and the trailer on youtube and I found this is awesome with play, and a perfect fit for the PUBG lovers, they can play the game to satisfy their desires.
In short PVP is a best Shooting Battle Royale Online + Offline game for games lovers and were looking for offline games so this is also, a perfect game for you.
Here are some amazing features of the PVP Shooting Battle Game 🙂
✅ Offline Single Player mode.
✅ PVP Battle Royale game mode.
✅ Online Multiplayer mode also has on this game.
✅ Many types of different weapons.
✅ Also, you will get the Army Military war mode.
✅ Gorgeous 3D graphics of the game.
If you look the end of the name, what you see.
That's why i added this game to this list because this game has some attractive name and they claimed that this is the best game like PUBG and you can play it offline without any problem.
In this game exact Pubg, you can also, land on a place and where you need to survive for live and you will get awesome types of weapons and so many things like this list.
✅ Real-world map
✅ target shooting weapons
✅ impossible missions
✅ Map free survival fire battleground
✅ Clear royale Graphics
✅Real-time battlegrounds
✅ Military vehicles
This is a Third-Person Shooting Game for android and if you ask me about the best alternative of PUBG and FreeFire then I will suggest you play the Gun killer.
Also, If you're looking for games similar to PUBG.
Then this awesome android game will help you with that, it also, has there own enemy system like PUBG, Freefire, also, in this game you will get awesome and perfect types of assault rifles And snipers.
If you're looking for games like PUBG under 100MB then here you're and this is the best and perfect fit for you and if you install this game on your mobile then you don't need any big ram or storage.
Basically, this is an offline game, and if you go to lay store then you will see this game has so much awesome icons like PUBG and this is why I added this game to the list and now it's time choice the game for you.
Read the title carefully and see what the name of the game.
This is a battle royale game and this is basically an online and offline game for you and if you like to play this game online then you can do it and also, if you like to play the game offline then you can do it without any internet.
Now at the end, we need to talk with you about some important thing, Hope you read our article at the end because I really afforded for you to list the amazing and perfect games like Pubg for your android and also, I shared under 100MB games for android on this article.
How To Download Offline Games Like PUBG for Android?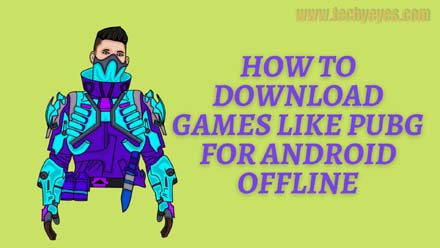 Now here is the thing after ending our post, because now it's time to choose the right one and then it's time to download anyone from the list but how? if you don't know then here is the quick guide for you to download games.
So just choose any of them from the list and then start downloading with simple steps:
Find the game first.
Click on the game name title.
Now find the install button from the google play store and click on it.
Then see your game will start downloading immediately and the play store will automatically give you the open button to play your game from the download page.
Bottom Line
Now it's time to leave the article, before leaving the article I want to tell you something about my this list of the top best PUBG alternative offline games, and it was.
If you like the list and found anything helpful then please do share or leave a good comment below, and most important if you found anything wrong then also, told me in the same comment section, Thanks if you like to see some other articles of my website then here are some other latest articles for you. 🙂