WordPress is one of the most famous website building software. If you are starting to build your page with WordPress or want to upgrade your existing page, it's good to have a page that will let visitors know that something new is coming – for that, you can use the WP Maintenance plugin.
WP Maintenance allows you to close your WordPress site for maintenance while building or updating it. It is compatible with all plugins and themes, and it will not slow down your site.
The free version allows you to customize the look of your maintenance page – add your logo and your pictures, choose colors and fonts, decide if you want your site to be visible for Google search while you are working on it, and select pages you want to exclude from Maintenance mode and set up a temporary page with authorization.
WP Maintenance PRO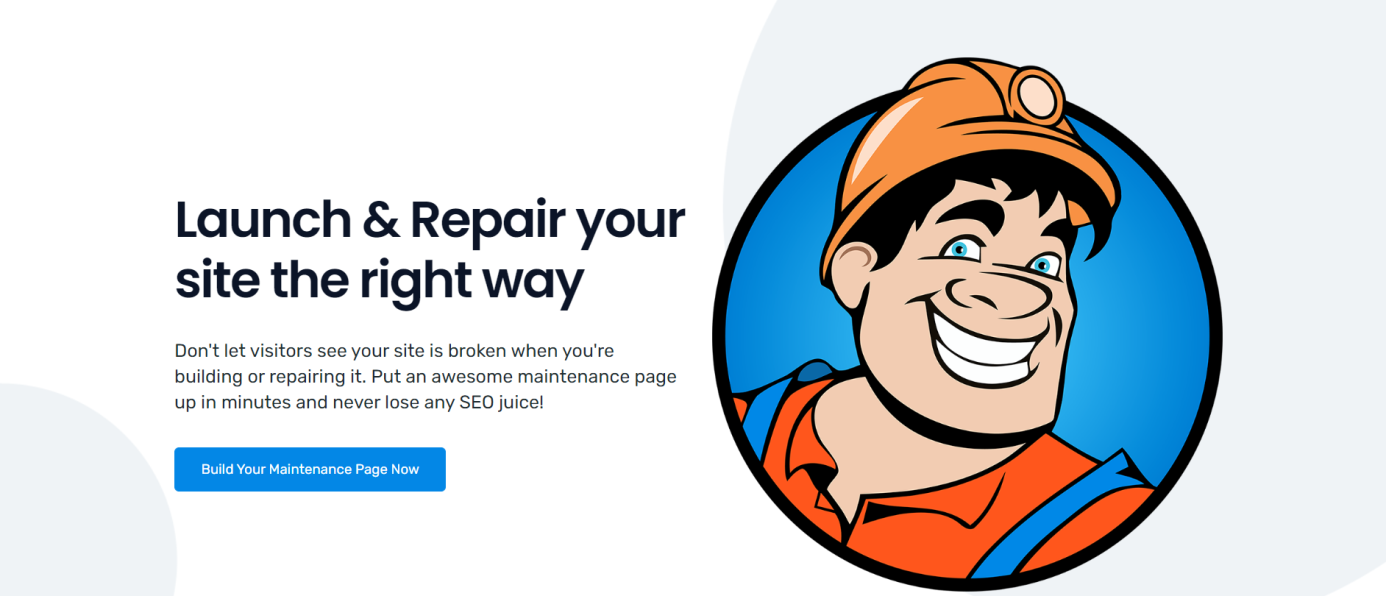 PRO version of the plugin gives access to the support from the developers that made the plugin, while for the free version, you have a support forum for help. WP Maintenance PRO offers pre-made themes and over 3 million images for designing and building your maintenance, coming soon, and landing pages. Also, you can use the Secret Access Link feature to give access to clients and employees to see your website even while you're working on it.
Under we present you all the options you will have in the PRO version of the plugin to give you an idea of what you get if you choose this option.
Themes – After you download, install and activate the plugin, you can choose from pre-made or user-made themes. When it comes to pre-made themes, you can leave them as they are or customize them to your needs and wishes. After you install and activate the theme, it can still be modified however you want with a simple drag and drop design tool.
WP Maintenance Themes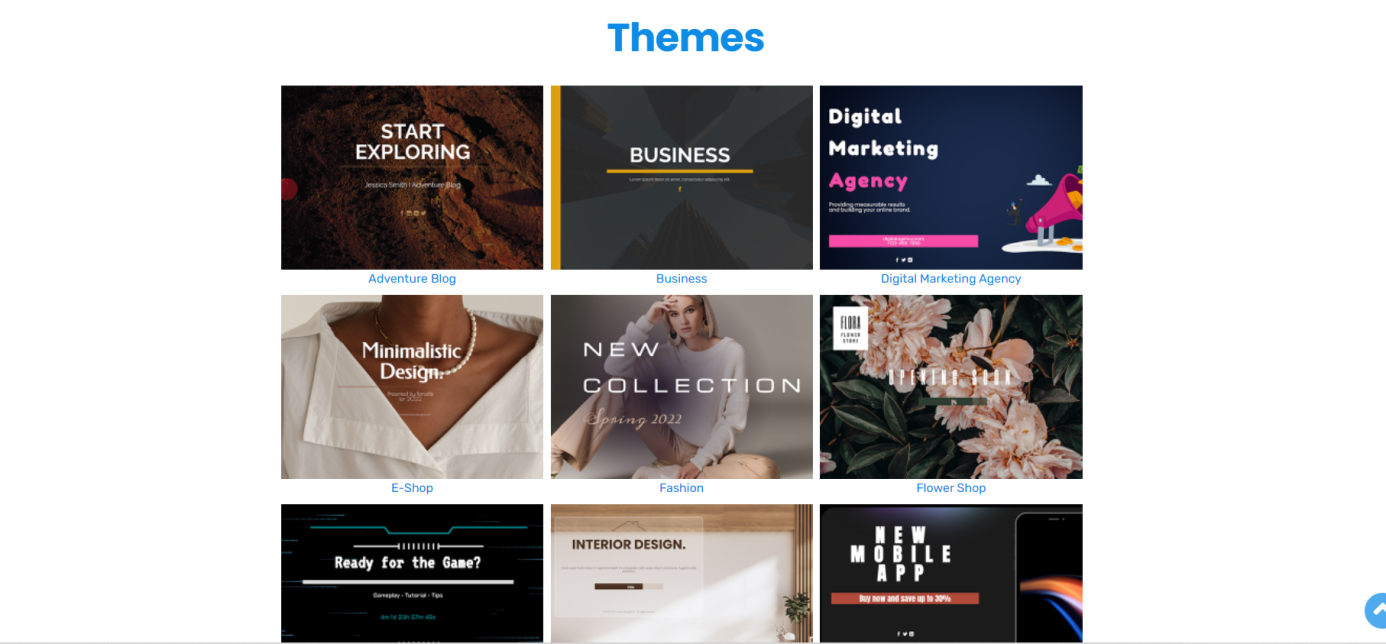 Design – Under the option Design, you have an option to make a page from scratch. The option is divided into several sections: general, layout, background, and custom CSS.
The general section is for positioning content and, setting spacings between modules, customizing font (family, size, weight, color) – for all the changes you are doing on the font, you will have a preview box to see how does it look even before you save the changes.
WP Maintenance Layout Option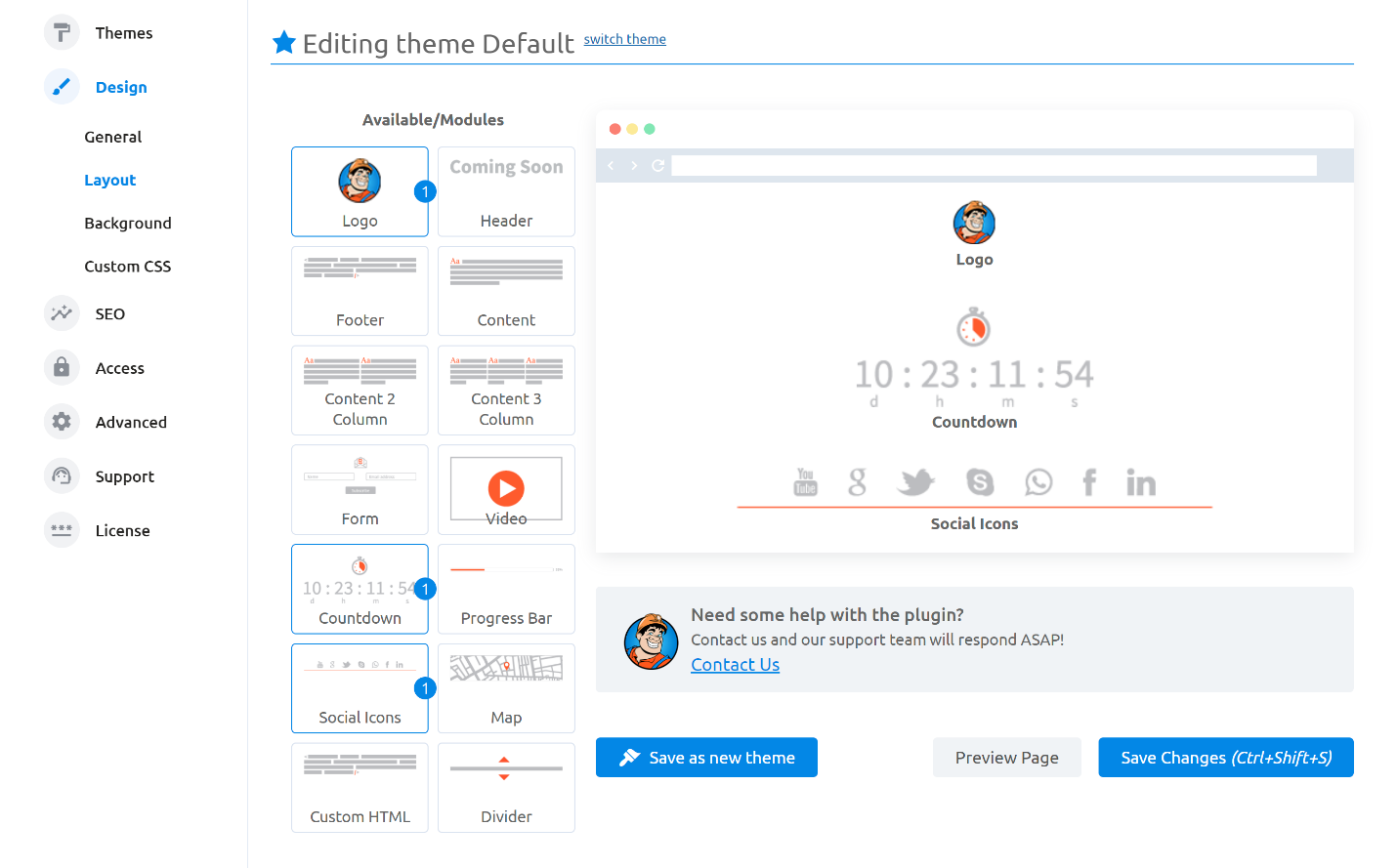 The layout option offers different modules (logo, header, countdown, video, form, map, social icons, or some text content), which you can position by dragging and dropping on your maintenance page. You can include as many as you want modules on your maintenance site. You can also modify each module – change fonts, colors, backgrounds, or positions.
The background option allows you to choose if you want to have an image or video as background, add blur to the background, set background color in case you don't want to have a background picture, and set the preloader image. The custom CSS option is useful if you are familiar with coding in CSS to code your style.
WP Maintenance Image Gallery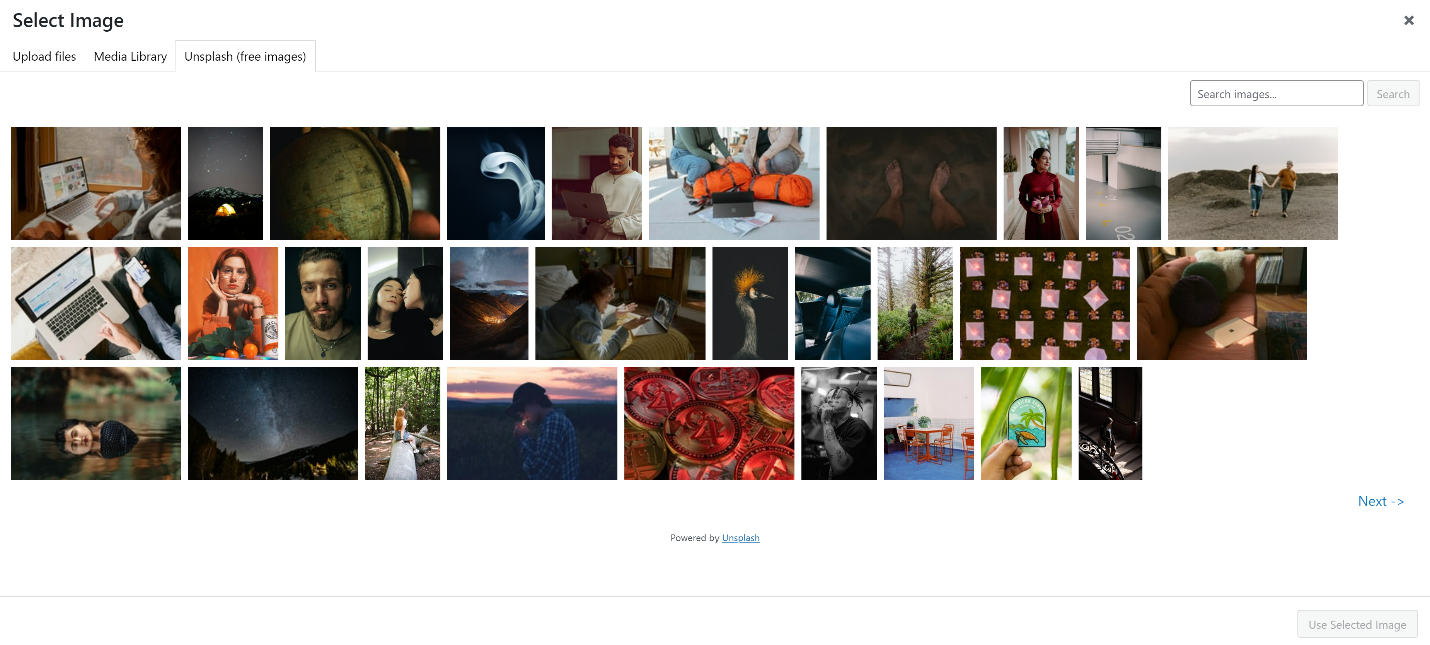 SEO (Search Engine Optimization) – In the SEO section, use the SEO Analysis tool to rank your website as best as possible. Set up SEO title and meta description, decide if you want your page to be visible to web crawlers and be shown as a search result, set up favicon and social preview image, and set up links to your website Facebook or Twitter page.
Access – In the Access section, you can decide who will see your maintenance page and website while under construction. Here you can also choose if you want all the pages of your website to be under maintenance or just specific ones. Set up a username and password for login to see your website while you are working on it, set up a secret access link to share to people you want to see your normal site, or set up IP Whitelisting – set up which IPs will be able to see the normal page, not the maintenance page.
Advanced – In section Advance, you can import, export, or reset settings, set up maintenance page title and content, or force SSL on the maintenance page
Support – Clicking on this section in the PRO version will open a chatbot for support.
License – This section offers all info about your plugin license status.
Pricing
Like we already said, WP Maintenance has free and paid versions. Of course, you have much more options with a paid version – you can choose between pre-made themes or make your own from scratch, choose among more than 3 million free pictures for your background, and get developers' support.
WP Maintenance offers three paid versions, depending on how many pages you have (1 site – personal, five sites – team, or 100 sites-agency), and they are all versions for a lifetime. Each version has a 100% money-back guarantee for seven days' use.
Alternatives
If you are looking for something with fewer options for your website maintenance period, we recommend one of these two plugins:
UnderConstructionPage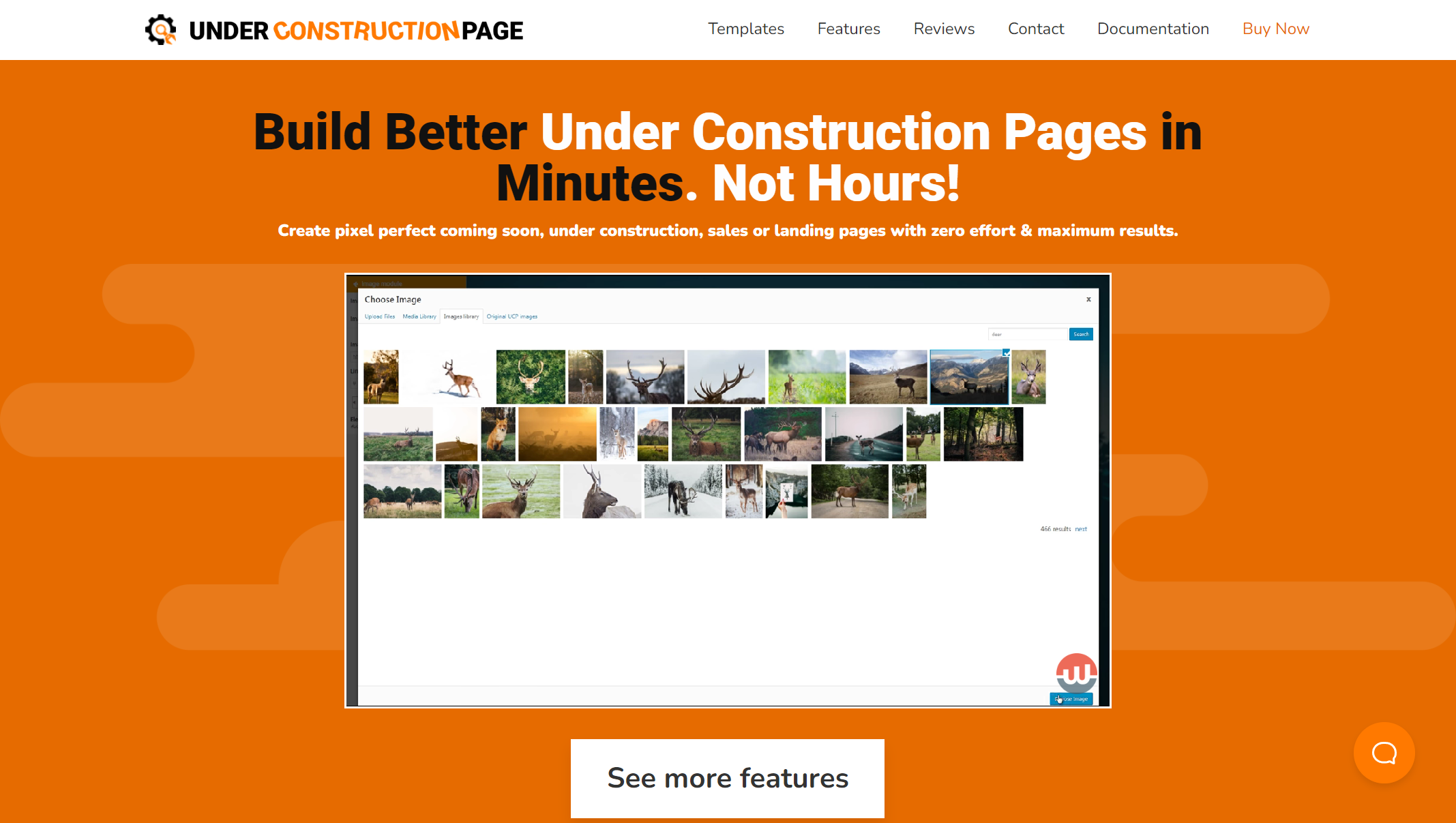 UnderConstructionPage is well known for its beginner-friendly drag and drop builder, which allows you to make the coming soon or maintenance page very fast and very easy. Choose from over 3 million pictures and templates, or make a page from scratch in minutes.
It also offers traffic tracking on your website. It has a free version, which doesn't include a drag-and-drop tool for design, and two paid versions – pro and agency versions, depending on the number of sites you own. For the paid versions, you can choose between yearly and lifetime payments.
Coming Soon & Maintenance Mode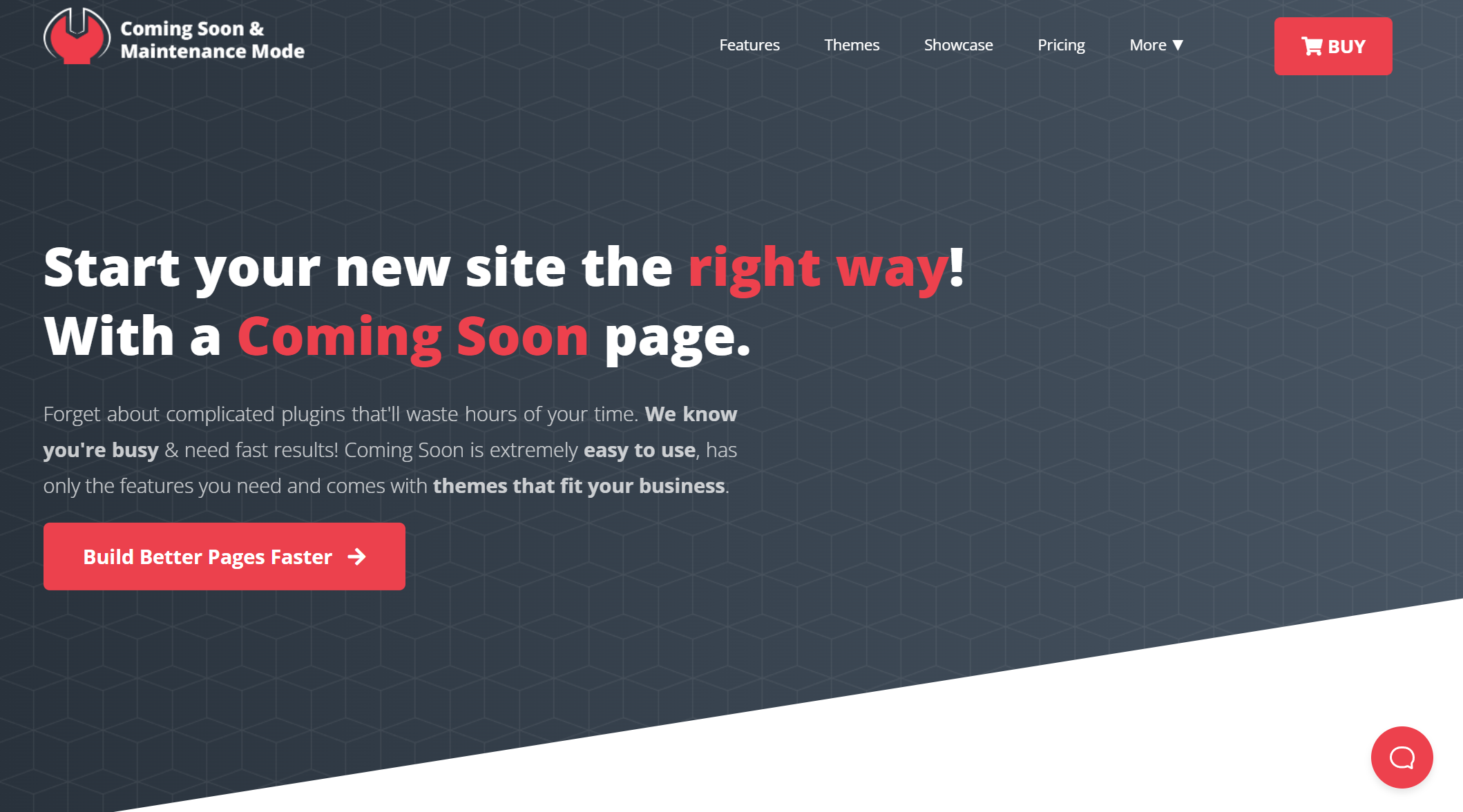 Coming Soon & Maintenance Mode is great for small local businesses to make coming soon, maintenance or landing page with over 2 million free pictures for background, around 200 pre-made customizable themes, build-in SEO tests, checks and guidelines, Secret Access Link for your clients to see what you are working on and full support for your autoresponder.
It offers several versions: one free and three paid versions. The number of pre-made themes available and the size of the image library depends on the version you pay. Only PRO Lifetime version includes drag and drop builder, dashboard, rebranding, SEO tools, CRM platforms integrations, and lifetime premium email support.
Conclusion
To conclude, WP Maintenance PRO is the best plugin you can use for your website while building or updating its design. It offers you all you need to have peace of mind when it comes to your website's results even while you are building it – allowing you to track and optimize traffic on your website with integrated SEO and autoresponders, CRM support, etc. and a centralized dashboard.
It's important to decide who will see your maintenance and who will see your normal page under construction – WP maintenance gives you several options to filter who will see the maintenance page and who will not. It offers a very easy drag-and-drop design tool allowing you to design a responsive maintenance page for every device in minutes.
There are many plugins for the maintenance or building period of your website. Your choice should depend on your needs – if you realize the importance of a good website for your business and have a serious approach to your website, you should choose the WP Maintenance plugin, which will help you optimize traffic on your website even while you are building it and give you wide variety of themes and pictures to choose from for the maintenance page design.
Otherwise, you can use either the free version of WP Maintenance or UnderConstructionPage or the Coming Soon & Maintenance Mode plugin, which will offer you less but are still good choices and give good results.