When launching your WooCommerce store, there are a lot of things to consider. You want to make sure your website represents you and the products or services you will be selling in the best way possible. To accomplish that, you will want to spend your time and money on bettering it.
Themes compatible with WooCommerce will give you all of the required features to make your site look visually pleasing and professional. To help you with that, we will provide you with a few pointers when searching for a theme.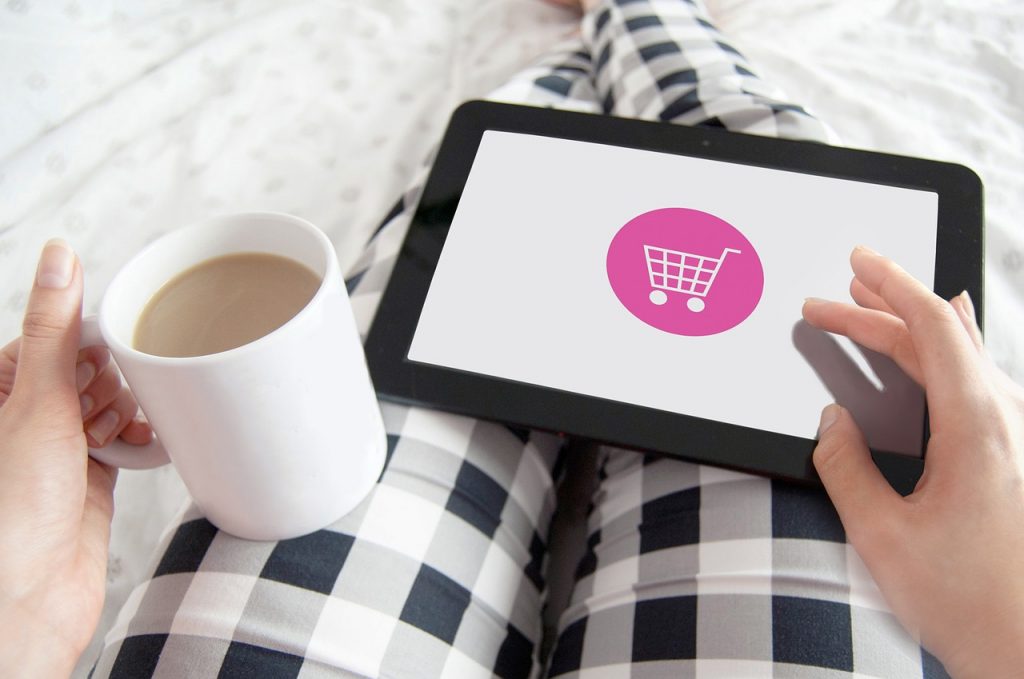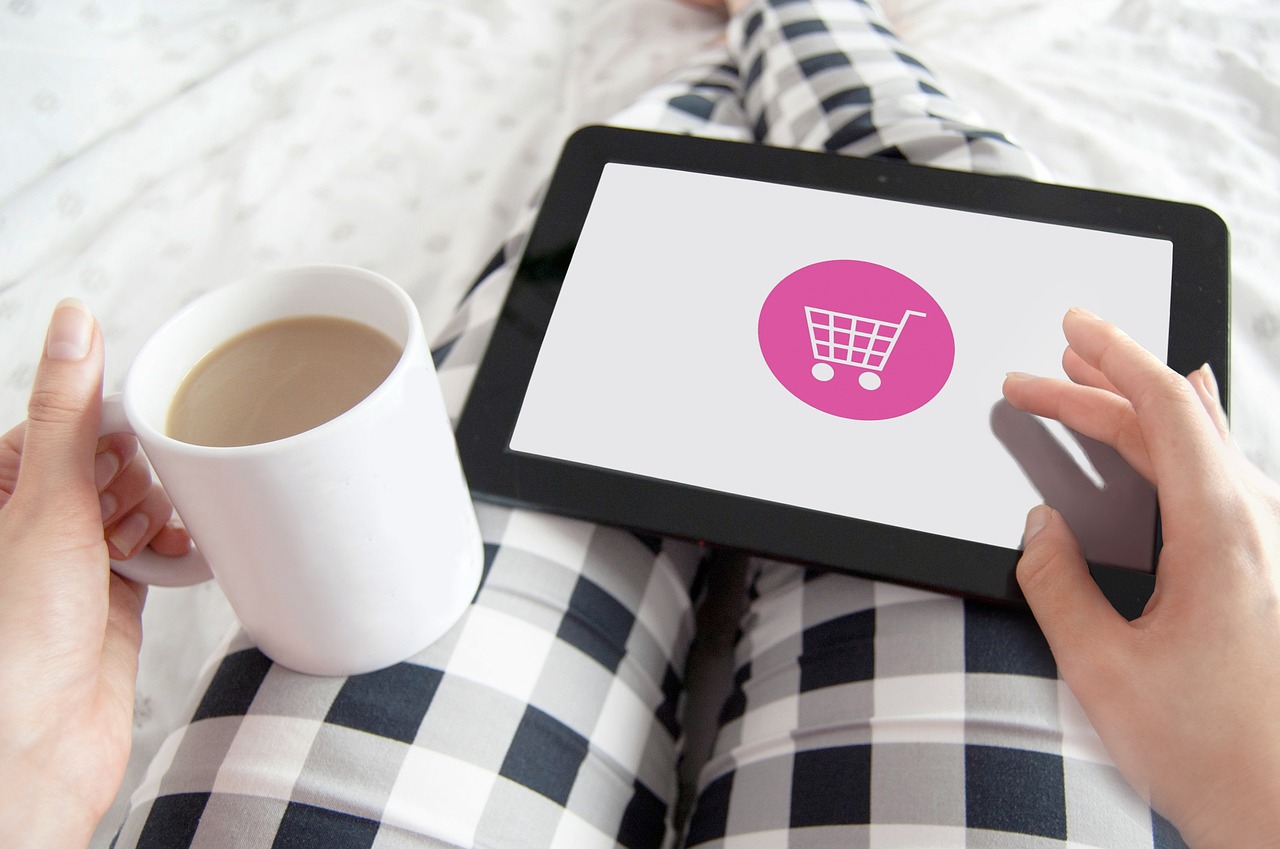 The first one is making sure your theme is WooCommerce-friendly. This one is pretty obvious, but you don't want to choose a theme that won't be compatible with your site.
The second tip is to find a theme to make your own and stand out in the WooCommerce crowd. That means you should make sure you find a theme with tons of customization options.
Finally, we all know a slow-loading website is not just dull but also a bit sketchy. That being said, you want to find a theme that will optimize the performance and keep the site's speed as high as possible.
Without further ado, here are some of the best themes out there.
1. Leto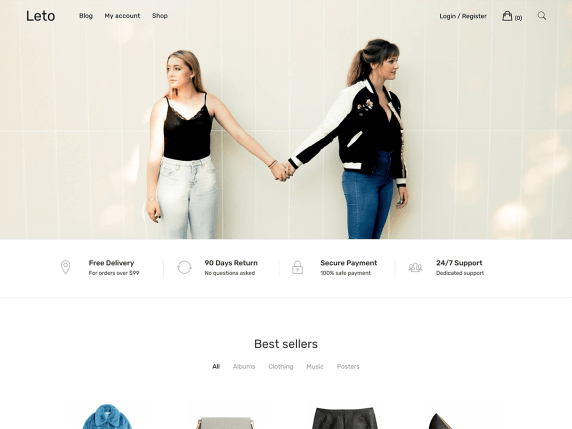 Leto is a fantastic theme that will save you money and has an abundance of features. It is compatible with almost every kind of shop.
The theme offers tons of optimization options, fonts, and color options. It also comes with a number of built-in widgets to help you create and customize a homepage that you will be proud of.
The theme customizer allows you to style almost everything, starting with fonts and colors.  Another cool feature is the option to translate your site, which is possible with only one click. Furthermore, the header media is excellent for adding media to your header, thus impressing your visitors.
Leto is always up to date with the latest WordPress updates and offers an excellent support team at your service 24/7.
2. eStore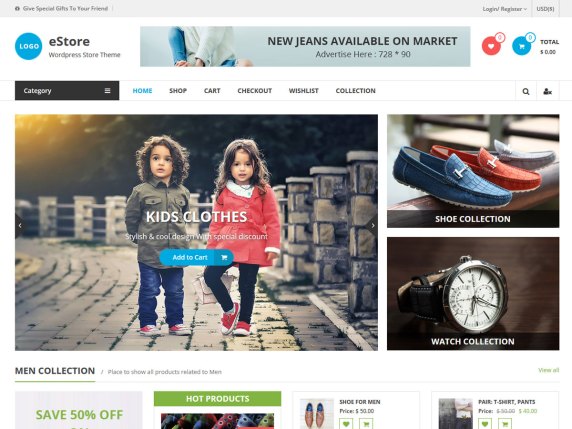 eStore promises to leave you with an amazing-looking site. They are all about having a website that is appealing to the eye; everyone enjoys a good-looking website.
The creators guarantee the theme has everything you might need for your store. It gives you the ability to customize your site to the fullest and keep it very functional for your visitors.
eStore is compatible with tons of WooCommerce plugins, so you can add whatever the theme might be lacking. They offer you a free demo as well, so you can see this theme's full potential.
3. Shopstar!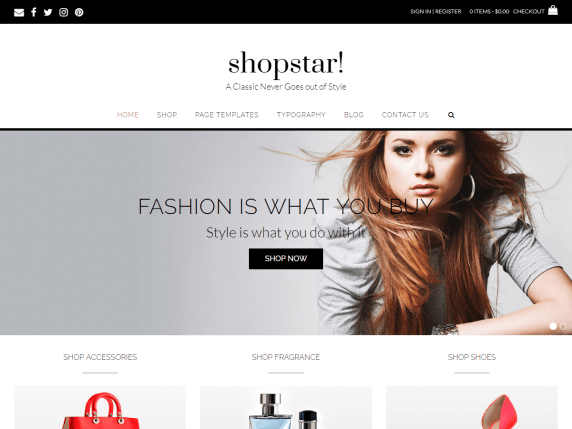 Shopstar! is a very easy-to-use theme, which will leave your site looking stylish. A word that best describes this theme is minimalistic, which does not mean it is boring and basic.
You can create all kinds of different looks and design your site however you want it. The theme itself is integrated with many plugins, including SiteOrigin's Page Builder, WPForms, and Recent Posts Widget Extended.
The most important thing for our today's topic is the fact it is 100% WooCommerce compatible. It takes you only a few seconds to add your products and make them available for other customers to see. Another cool feature is the custom menu at the top of your site, which can easily guide your visitors through the page.
To get your traffic up a notch, you can even insert your other social media profiles and allow your visitors to share your products.
4. Astra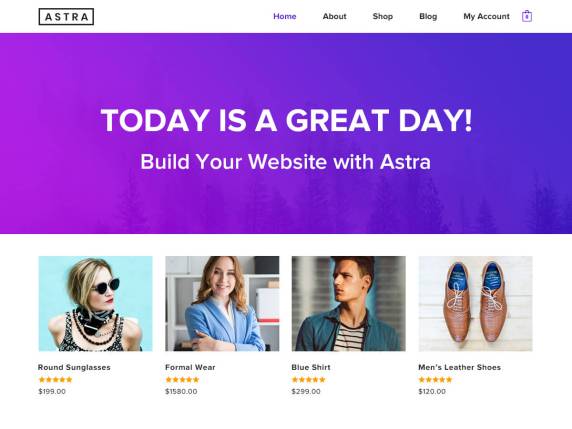 Astra's biggest plus is its speed. It is a lightweight theme that will not sink your site and slow it down, which is one of the most important things.
You can improve your conversion rate just by using this theme. Moreover, you can customize almost every aspect of your site without writing a single line of code.
You also have the choice of numerous header options that are free to use on your website. Astra is an excellent theme for any WooCommerce store.
5. WP Store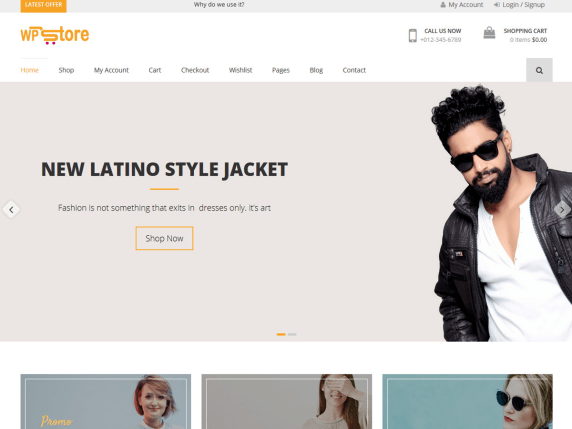 No matter what you are selling on your site, WP Store will present it in the best way possible. This multipurpose theme will leave you with a great-looking site without breaking a sweat.
WP Store offers a grid-based layout, making it easy for your customers to see all of your products, top sellers, and novelties. This tool offers several tools to make your site stand out in the competition when it comes to customization.
6. Agency eCommerce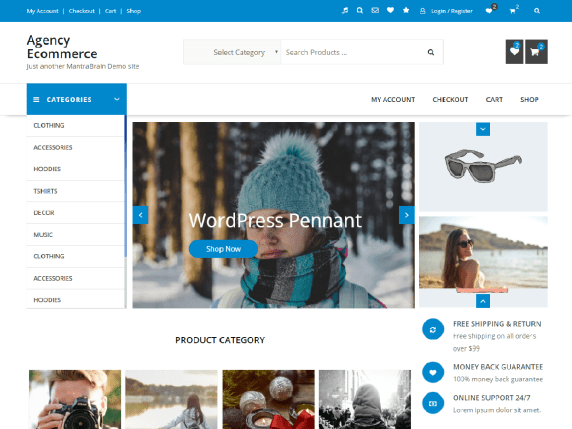 Agency eCommerce is all about originality and creating your brand's name. You can showcase your creativity by making your site reflect you and your products in the best way possible. This theme allows you just that.
You can customize almost everything, set your color scheme, customize your site's layout, and edit the header in whichever way you want. It also offers a newsletter widget, which your visitors can click on to receive emails, helping you grow your little community.
You can also add sticky elements to the theme. An "Add to Cart" button will allow your visitors to go to checkout whenever while browsing your site, without having to scroll to the top of the page.
Conclusion
We hope you have found today's article helpful and that we have given you insight into what you should keep in mind when deciding on a theme for your store.
Giving a chance to any of these themes mentioned above will not cost a thing, only a bit of time. Be sure to try out some of our suggestions!