SEO (Search Engine Optimization) is a continuous process that uses specific techniques to improve your website's position on search engines such as Google, Yahoo, Bing, etc. One of the most popular WordPress search engine optimization plugins is Yoast SEO – a plugin that millions of websites have successfully used since 2008.
The Yoast SEO plugin improves your site's SEO in all aspects. This plugin takes care of technical optimization and helps you write better content. It encourages you to choose focused keywords and use them throughout your text.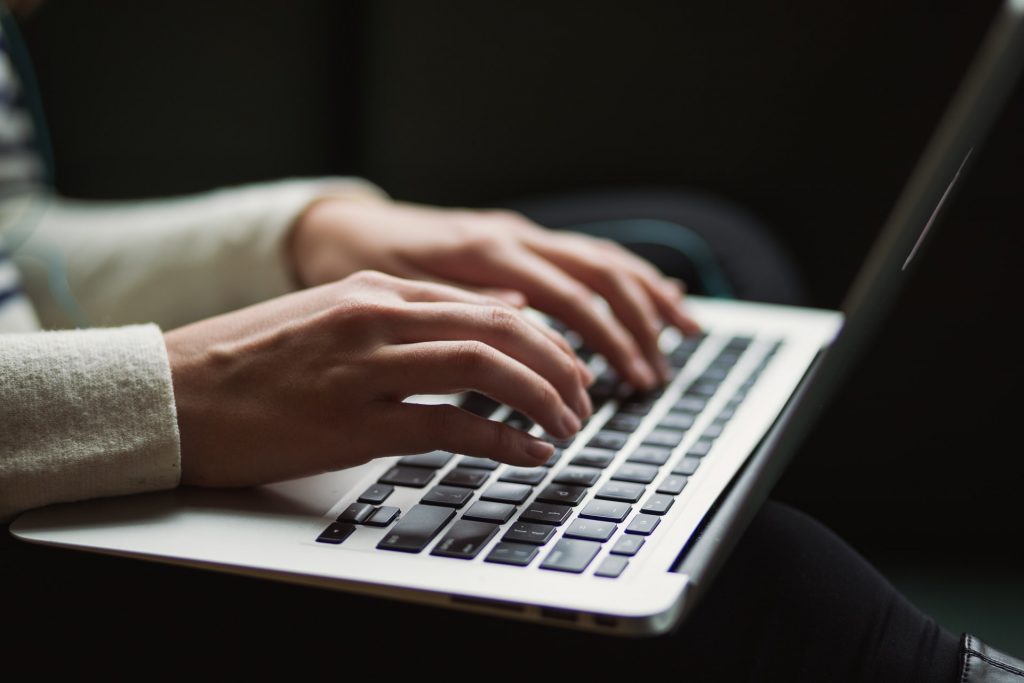 This plugin allows you to create an XML sitemap and verify your site in webmaster tools (Google, Bing, Baidu, Yandex…). You can exclude certain types of content from indexing in search engine results (categories, tags, media pages) and create titles and forms for meta descriptions.
The search for the right WordPress SEO plugin can be exhausting. While Yoast SEO is great for beginners, we also have adequate alternatives that we recommend you to try out.
1. Squirrly SEO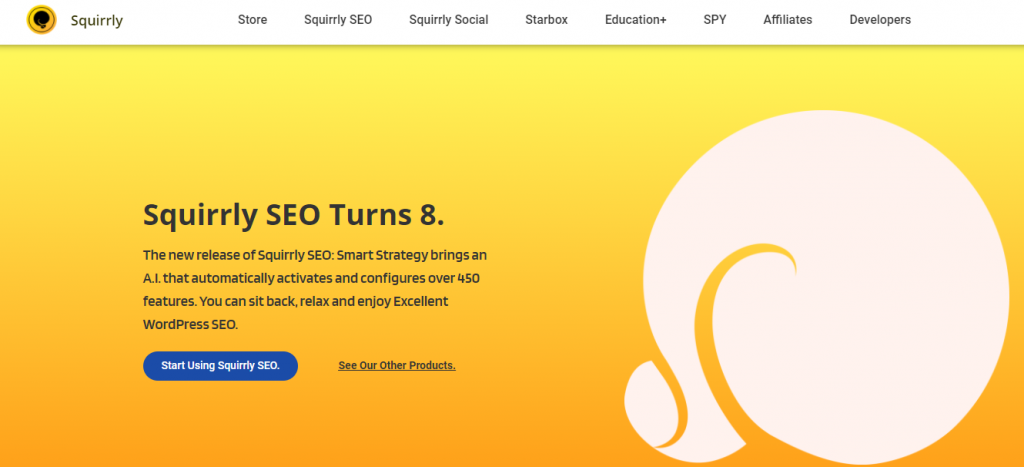 Squirrly SEO is a manageable SEO plugin that helps you become the "SEO Superstar" by offering "Assisted SEO" to improve your SEO knowledge.
The main difference between this and other plugins is that non-professionals can also use Squirrly SEO. It guides you through improving your SEO while creating content. The tool also includes all of the following features:
Keyword Research Tool
Google SERP checker
SEO audit package
SEO clip tool
Duplicate removal tool
XML sitemap generator
This fantastic plugin supports up to 140 research countries. That means you can use it for Keyword Research in multiple languages. If you are an absolute beginner, this is a great free tool to improve your SEO.
It provides you with skills that you can upgrade later. Please note that you can only use the free version of the plugin on one website. If you choose to use it on multiple sites, you need to upgrade to the Pro or Business version.
2. Rankie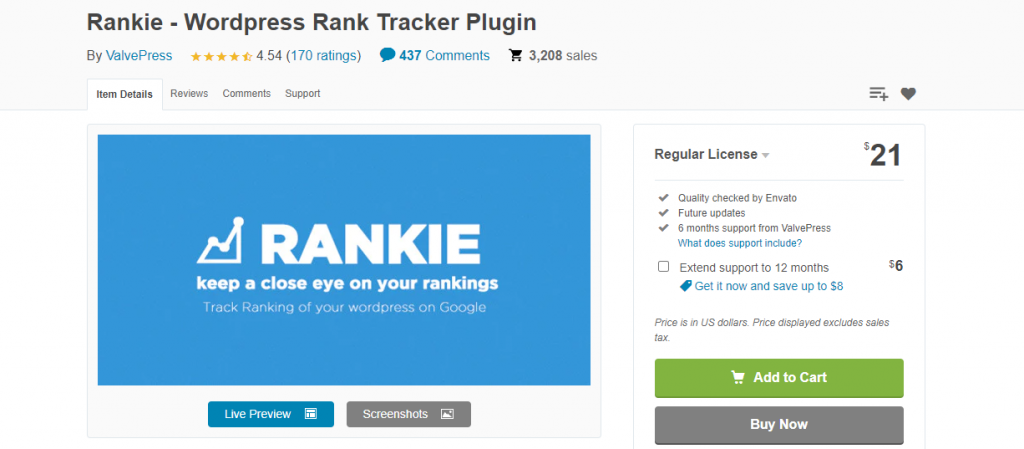 Rankie is a tool you can use to track keywords on your website and research additional high-ranking keywords. The plugin's primary feature is that it tracks your rankings and provides you with valuable insight.
You can track statistics directly from your WordPress interface or have the program send you a tracking email daily. However, this tool can do a lot more to help you with your keywords.
It includes a powerful keyword research tool that will generate current high-ranking keywords. Click those keywords, and create a long-tailed list that you can use in your posts.
Additional features include:
Automatically track keywords for your website
Google search ranking, Google Custom Search API, Google via F-secure.com, or Google via kproxy.com
Filter reports by site, group, or search term
Proxy support
Daily reports and ranking charts
3. Rank Math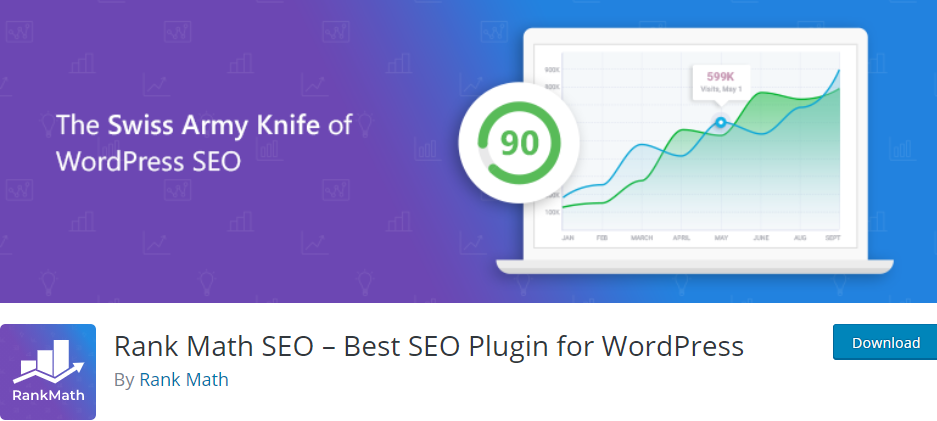 Rank Math is probably one of the most powerful plugins for WordPress SEO. It is user-friendly, has a setup wizard to guide you through the installation process, and the most beautiful user interface.
Unlike its competitors, Rank Math possesses Google Search Console integration, redirection, and review for Facebook and Twitter. If you want to migrate to Rank Math, you can import pre-existing settings from Yoast or All in One SEO Pack.
Some of the General Settings you can adjust in Rank Math are:
Links
Images
Breadcrumbs (a function that allows the visitor to see where they are on the site)
Webmaster tools
404 Monitor
Search Console
Redirects
4. All in One SEO Pack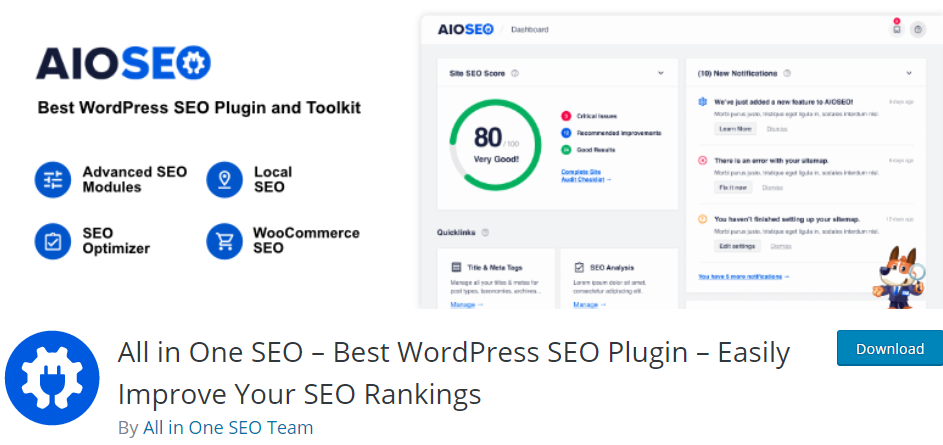 All in One SEO Pack is an add-on similar to Yoast SEO, with a few extra features.
You can use the features to change your .htaccess file without FTP, block "bad bots," and autogenerate meta description. This plugin automatically determines meta descriptions and keywords and optimizes blog headlines, making it excellent for beginners.
It also allows you to enter meta tags for each blog post or page manually. It is an excellent solution for all those who use the WooCommerce plugin for their online stores.
5. SEOPress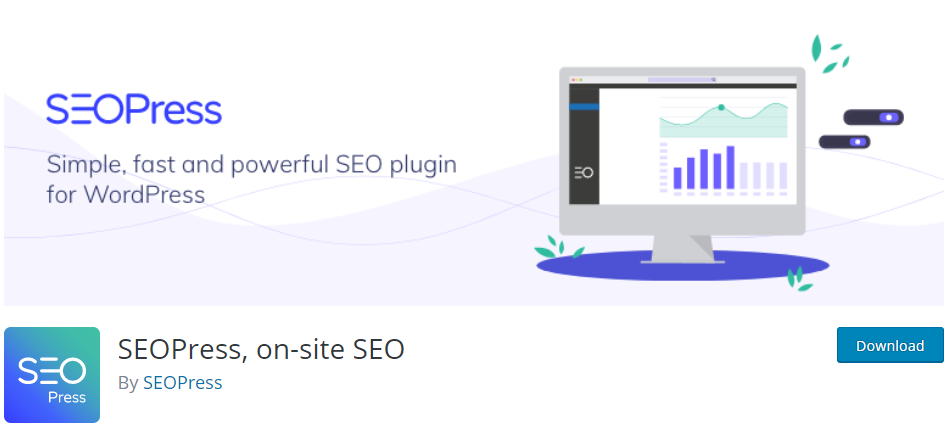 SEOPress is a WordPress plugin designed to collect all the essential elements of SEO and organize them into a series of menus.
You can have a quick and easy add-on that offers both a free version and a Pro version. As part of the Pro version, you can get a link to Google Analytics and improved e-commerce of Google Analytics.
It also includes Google structured schemes, 404 trackings, redirects, Google Bookmark Manager, etc.
With SEOPress, you can change or delete all metadata, just like you can do with Yoast SEO. However, SEOPress is much easier and "cleaner" than Yoast SEO.
SEOPress will not show you ads for other products or force you to leave white labels.
Using keywords the right way
One of the most common mistakes when optimizing a particular site or text is adding and repeating keywords excessively. Excessive use of keywords can contribute to the so-called black hat SEO optimization techniques, damaging your reputation.
The way you write text should not deviate much from how a person speaks. The user experience is one of the crucial factors that Google considers when ranking a particular site.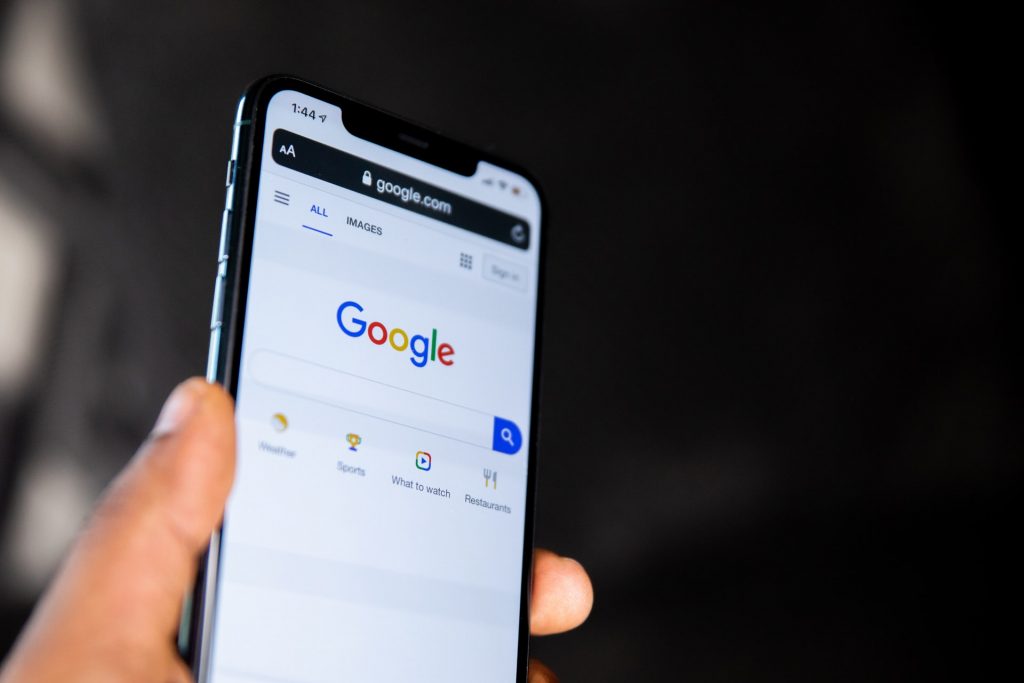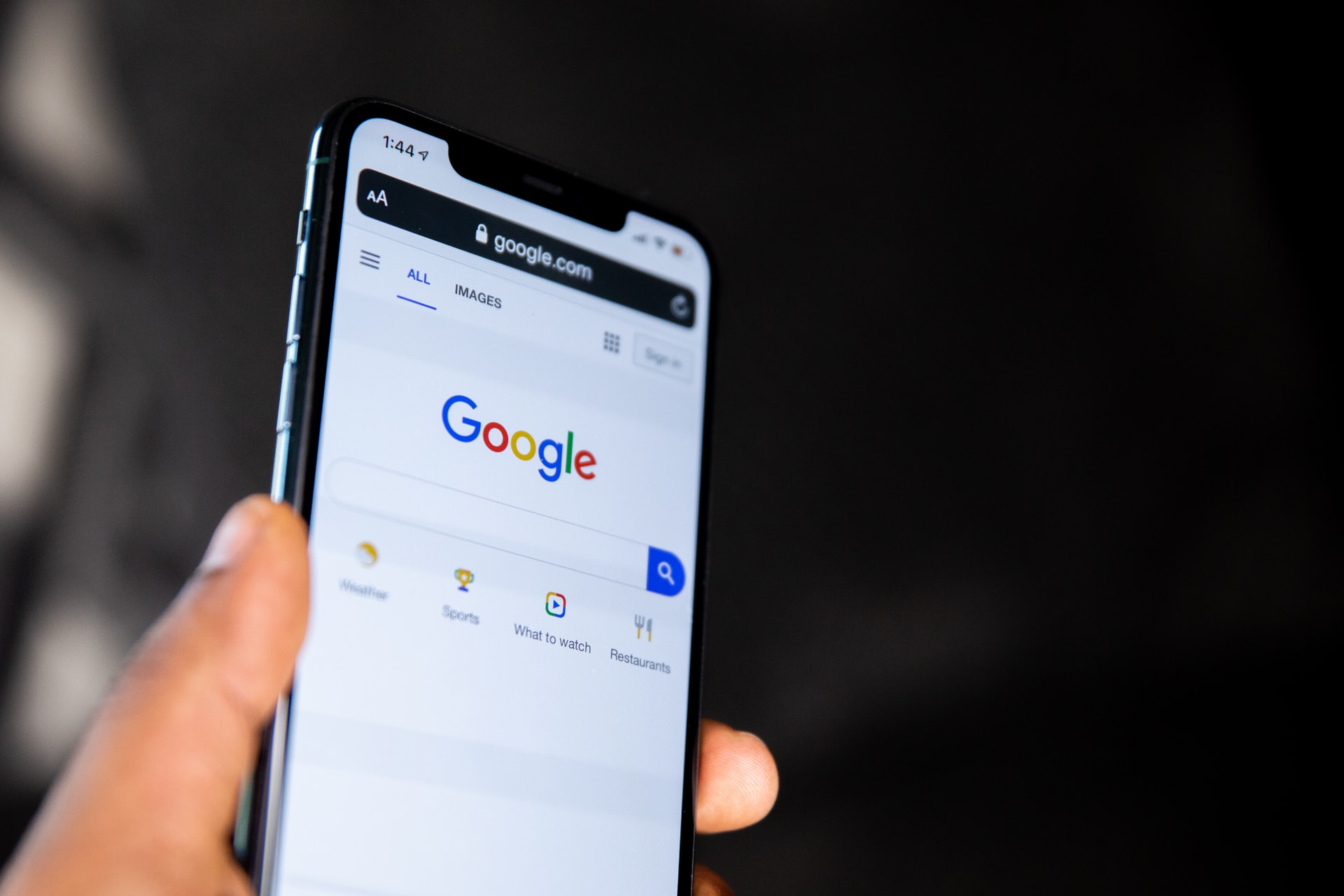 Your text's optimal number of keywords should be between 2% and 4% of your overall content. Today, Google understands the content you write and understands if it tries to manipulate keyword addition.
Conclusion
All of these plugins will help you in their way, but Squirrly SEO can be a whole new experience for you. With this plugin, you will also have your SEO Assistant, bringing you a completely new understanding of SEO optimization.
Daily SEO goals, focus pages, excellent keyword research, and fantastic audit tool will make you the new "SEO Superstar".