Creating an account on any platform is easy and Telegram also, an easy platform to create your account by using the software.
So if you're a PC user then here are the step by step guide about how to create your first telegram account without any problem by using the telegram web version.
Why telegram web is best?
Because so many PC users want to create telegram account without bluestacks and that's why i will show you the exact method to create your telegram account on PC without any emulator software.
Download Pc Games from Telegram Channels
Steps To Create Telegram Messanger Account on Pc Without Bluestacks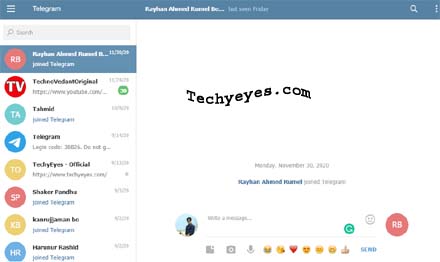 First, open your chrome browser.
Go to your Chrome address bar from the top part of your chrome.
Now type here "Telegram web" and search for it.
Now open the first result from google or click this button to go to the direct page. (Telegram web)
Now here is the account creation page of telegram official.
So click on the "Create a new account".
Now place your mobile number which one you want to use in the telegram.
Then wait for an OTP to receive your mobile number, when the OTP will come to your given number just copy it and past it on the box and click on the "Next" button.
Now its time to give your name: so just fill out the "first name and second name" boxes and then just put a "profile picture" of your profile and click "Finish"
So that's set now you see your telegram account active now, and you

successfully created a telegram account without any other application on your PC

with chrome browser.
How to install Telegram on Laptop
Bottom Line
I don't know if you're compleately know or not about the telegram application? because telegram has there so many policies for the users, so if you don't know how telegram works or how to use telegram on pc then just read out my old articles one by one.
Also, i think now you understand how anyone can create telegram messenger account on pc without any software? if you have questions related t this topic then feel free and ask me in the comment section, Thank You.