Hope youre all good!
So welcome to our latest article of "best android apps".
So nowadays i see so many Facebook, IMO, Whatsapp users using "Stylish Text Apk" on there android phone, and they making amazing and beautiful names and status for there social media.
That's why i making this article for you those peoples who want to make Crazy Fonts, Emoji & Symbols for there social media, but they don't know how to make them.
So don't worry just stay with my article, i will teach you how you can make your name or status more amazing using some android applications, so just wait and see.
What is a Stylish Text App?
So, first, let's give you some information about the stylish text app, basically, this is a type of android applications which will help you to make your Facebook status or any social media name more beautiful and stylish, so to know this more just look at this picture above and this is a demo of a stylish name.
What is Stylish Fonts, Emoji & Symbols For Android?
So, now we need to know what is stylish Fonts, Emoji & Symbols, so basically we know symbols, emojis, or fonts but we don't know what is stylish fonts and symbols, that's why you just read the full article carefully because in this article i will show you the practical.
Best Apps For Create Your Own Stylish Fonts, Emoji & Symbols on Android
Now its time to share with you some amazing and useful applications, which will help you to make your social media status or name more fancier or stylish, so just read the article and see some best android apps for creating your own stylish fonts, emoji & symbols on your android or tablets.
#1. Stylish Text – Fonts, Emoji & Symbols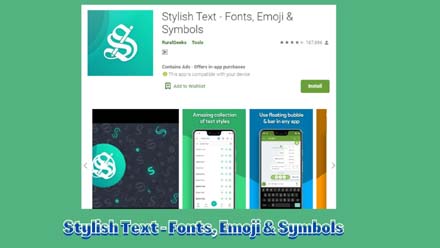 So this is our first application and i found the application on google, and i decided to show you this application in my article because this is the best to make your name or status more beautiful and stylish, also, you can make your bio's. Write a tweet in Bold, Italic, and so on.
Basically, this is a Free software for your android or tablet, and this app has an amazing collection of stylish fonts, also, you can use floating bubble everywhere on your text.
Did you know the main thing of this app? so if you don't know then – this app has there own 120 Texts, 20 Numbers and 100+ Arts styles and so many more features.
#2. Cool text, symbols, letters, emojis, nicknames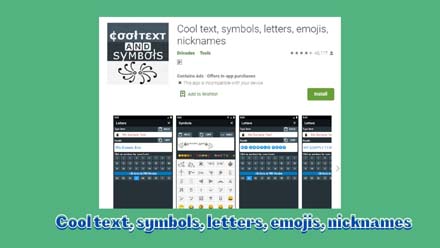 Now let's talk about our second application, and this is also, the best application for you, and it will help you to make your name and texts awesome and fancy so that your social media friends will be shocked by your texts and status.
This application has so many features like ✔ Cool letters, ✔ Symbols, and Emojis, ✔ Decorations, ✔ Nicknames clans, ✔ Text Arts and so many more, so just use any one app from the play store.
#3. Cool Symbols & Characters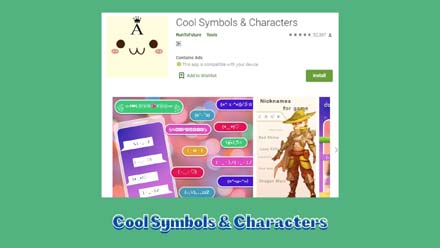 Now its time to show you the last stylish text maker application for you and this was the best and also, an amazing application for your android mobile, so just go to google play store and download it easily and make your status and texts amazing and cool looking.
Also, Read My Old Articles
Bottom Line
So these are some three most useful and trending android stylish text applications, and using those applications you can write a comment below about those apps, and that's why if you have any problem regarding using those stylish status maker apps then i will fix your any query very soon!