So welcome to our latest article on how to category and hope you're doing well. 🙂
Are you using Twitter? and are you active on it? if yes! then I'm also, active on my Twitter lets talk to each other and build our friendship, this is my Twitter profile: https://twitter.com/EyesTechy.
Did you know that, if you Pin your tweet then you can unpin it, so if you don't know and if you're looking for this then here I have an excellent way to unpin a tweet on android, iPhone, and Pc, so if you want to learn about it then read the step by step process.
What's the mean of Pin and Unpin a Tweet on Twitter?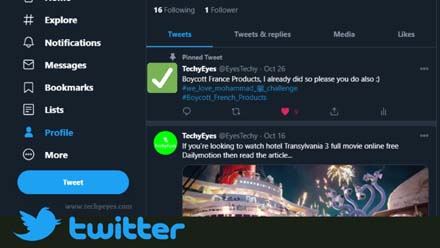 Basically for those peoples who don't know about "pin or unpin", so if you want to show a particular post on the first position of your Twitter profile then you can do it by using the "Pin" feature and if you want to show the pinned post on the second or any other down-level position then you can do it by using the "Unpin" feature.
Few Steps To Unpin a Tweet On Android and iPhone
So if you're an iPhone and android phone user then you can do it easily with just some steps, so just read them carefully to unpin your tweet on iPhone and Android.
First, open your Twitter and go to your profile.
Now find the "Down arrow" on your profile and click on it.
Now here you see the "Unpin from profile" option, so just click on it.
Here you can unpin your tweet easily, so to unpin a tweet just click on "Unpin" and that's set.
Steps To Unpin a Tweet On Pc (Windows)
So, now this guide for Pc or windows users, basically so many Twitter users are using desktop to explore their Twitter account, so if you also, a desktop user and now if you want to unpin a tweet by using desktop pc then read this guide.
First, open your Twitter on desktop and then go to the "Profile" section on the left sidebar.
Then find the "Tweet" which one you want to Unpin, and then click on it.
Then click on the "Down arrow" and see where you will get so many options, so just click on the "Pin to your profile" and that's set, and at the last just confirm that you want to pin it by clicking the "Pin" button.
How many tweets can you pin in one time on Twitter?
If you want to tweet so many tweets on your Twitter account then you cant do it, because you need to replace the first tweet with your second or last tweet, so you can do only one tweet on one Twitter account at one time.
Bottom Line
Also, Read: How To Delete Shein Account Permanently? | How To Delete Telegram Account on iPhone Permanently? | How To Add Colorful Text On Whatsapp Status?
This is the guide for you, and I'm 98% sure that, you cant need to go anywhere to read about this topic and now you can unpin or pin of your any tweet easily, so if you like and if you got anything helpful then please do share or leave a comment below. Thanks :).